Ingredients for Brain and Eyes Health
Little Giant is a full spectrum multi-vitamin and mineral formula that provides needed support for healthy, growing puppy.
Recommended Advanced
Support for:
• BONE HEALTH
• DIGESTIVE HEALTH
• GROWTH & LONGEVITY
• SKIN & COAT HEALTH
• YOUNG PUPPIES OF LARGE BREEDS DURING RAPID GROWTH PERIODS
Little Giant a balanced combination of? CALCIUM, MAGNESIUM, PHOSPHORUS. and VITAMINS A. D, C, and E are required for healthy bones.
They work together to build and help maintain bone strength well a.a support bone growth. Deficiencies can lead to poor bone structure. Our formula provide the right balance of this nutrients to support healthy growing puppy.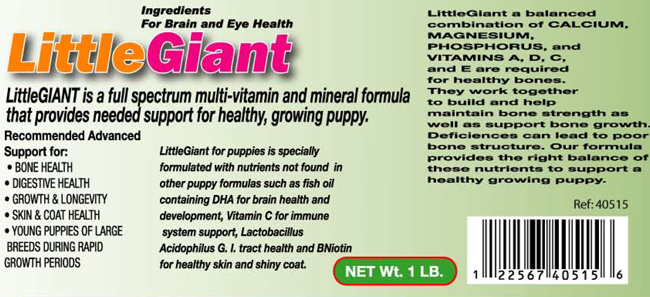 ---